Getting the first job
No surprise that getting your first job on Upwork might be challenging. Therefore, I've gathered three different yet very effective methods on how to get started!
METHOD #1 Sell yourself cheap for 5* rating
Let me say you this. The easiest way to get your first gig on Upwork is to opt-in for a quick & cheap project. Many of you might be upset by my not so unique advice but hear me out. If you spend an hour for a $5 gig to get 5* rate, you can start getting decent projects as soon as the next day. If you DON'T sign up for this $5 kind of gig, you might be wasting several more weeks by trying someone prove that you're a decent freelancer.
Steps to make it happen:
Reach out to your target audience in Facebook groups, Twitter, mailing list or any other way that is more convenient for you. Make the offer to work for $5 (or $10, or whatever else) for a quick project. It will be enough with ONE project like that, just make sure that you get 5* review afterwards. Although you might have arguments like "I value myself way more!!", "My time is not worth it!!" - if you want to get started on Upwork, you might have to live with this one. This is not a long-term deal, I promise!
Search for projects in your field that are fixed price, priced low + are open to new freelancers. Also, make sure that the number of proposals is low so you don't have to compete with 50 other freelancers. Aim somewhere under 20.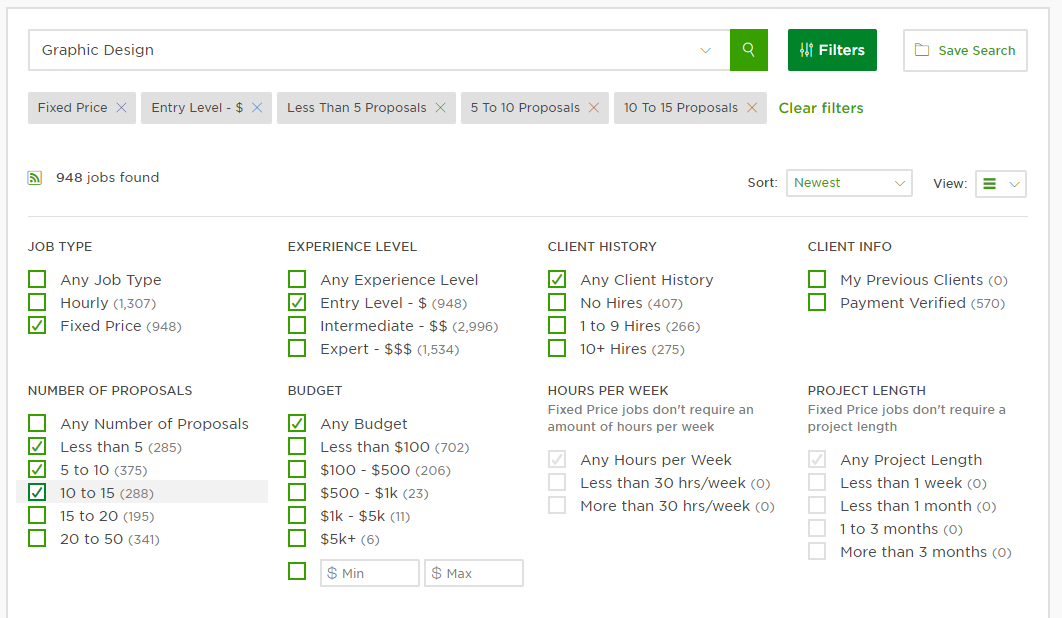 These projects might take 5 or 60 minutes, it depends on the field you're in. And it will pay off! Here are some real life examples of how it worked:
I started on Upwork with $4/h Quote design project. At that point, $3 was as low as one can go. I had no intention on getting paid more since even $4/h seemed a lot (it's more than the minimum hourly rate in my country) and I didn't know that it's just the beginning. Anyhow, it was a great turning point for me! After the initial project & good review, I continued to search jobs for $7/h - $10/h (reminder, I really didn't know I can ask more!). And, step by step, that's how I got here. My first job was CRUCIAL. And I actually got it on the second day after signing up on Upwork.


Richard is working with video editing. His first jobs on Upwork was a long-term video editing project and he got no reviews (since it was an ongoing contract) and he struggled with getting any additional contract going. Later on, he got a quick side project where he needed to add watermarks to videos. After getting his first 5* review, he started receiving more offers and more options for interviews.
Diana got lucky. With her background in law, her first Upwork gig was a long-term project for $10/h with the option to increase this rate after the first jobs are done. She got this job in the first week on Upwork! All her Upwork career was related to this one project only, building her career up to the top, raising rate by weeks.
Getting started with lower prices IS NOT something to be ashamed of, to feel bad for and think that you'd "stuck" in this rate. No, in this case, it's all about getting a good review. Think of it as a signing up process!
METHOD #2 Prove your experience
In case you've already been in your chosen field for a long time, for example, your 9-to-5 job is related to it, you've already had freelance projects outside the Upwork or you've participated in any other relevant projects, you can rock your Upwork by proving your experience and expertise.
Here are some suggestions:
Add your portfolio high-level samples of your work. So if you've worked with design previously but now you want to be a social media manager, get back to the first method instead.
Send referral emails in your proposals. Be open about it! In your offer, you can write "Although I'm just starting on Upwork, I have a proven experience in the field. For example, I've worked on THIS project for THIS company. You can contact the project manager for referral:

[email protected]

". Make sure to inform your previous work colleagues that someone might contact them!
Be descriptive. Inform what exactly and how you've done it. For example, "Several months ago I worked on THIS project, solving THIS problem. I not only used my existing knowledge of THIS and THIS but also learned and practiced more of THIS. It was an amazing experience."
You might have already guessed it from the previous points but - show links! And don't lie… If you have to lie, get back to the first method!
METHOD #3 Be patient and write pro level applications
Sorry, I really can't give you anything more than this! The third and the last method is to be patient and work on your application skills. So if you're not ready to work on a low rate for your first project or you don't have any proven experience to show (even though you might have at least several projects you've already created, even if it was for your own good) - be patient and go for this option!
A few things to note:
This period of "being patient" might change from a few days if you're super lucky to several weeks or even months. Keep in mind that each month you have only 60 connections to spend which means - 30 job applications. For someone with at least one review, 3-4 of these applications might work out. While for someone without any review, it's either all or nothing. Up to your luck!
If you want to get the job without lowering your rates and having no proven experience, having an explicit application writing skills is A MUST. In the next lesson I'll be showing some samples on how to write a good application but it's not only about writing it. You actually have to be a great person in general for someone to click with you. You should be nice, responsive, very creative and open-minded, flexible, able to adjust to your possible client before even knowing the person.