Introduction to Upwork
Upwork is a widely known platform where businesses or individuals find freelancers to work with. Currently, it's definitely one of the most popular and well-known places for aspiring and professional freelancers. Initially, this platform was called oDesk and it had a close peer Elance. But, at one point, they decided to work together as Upwork. And that's where we meet!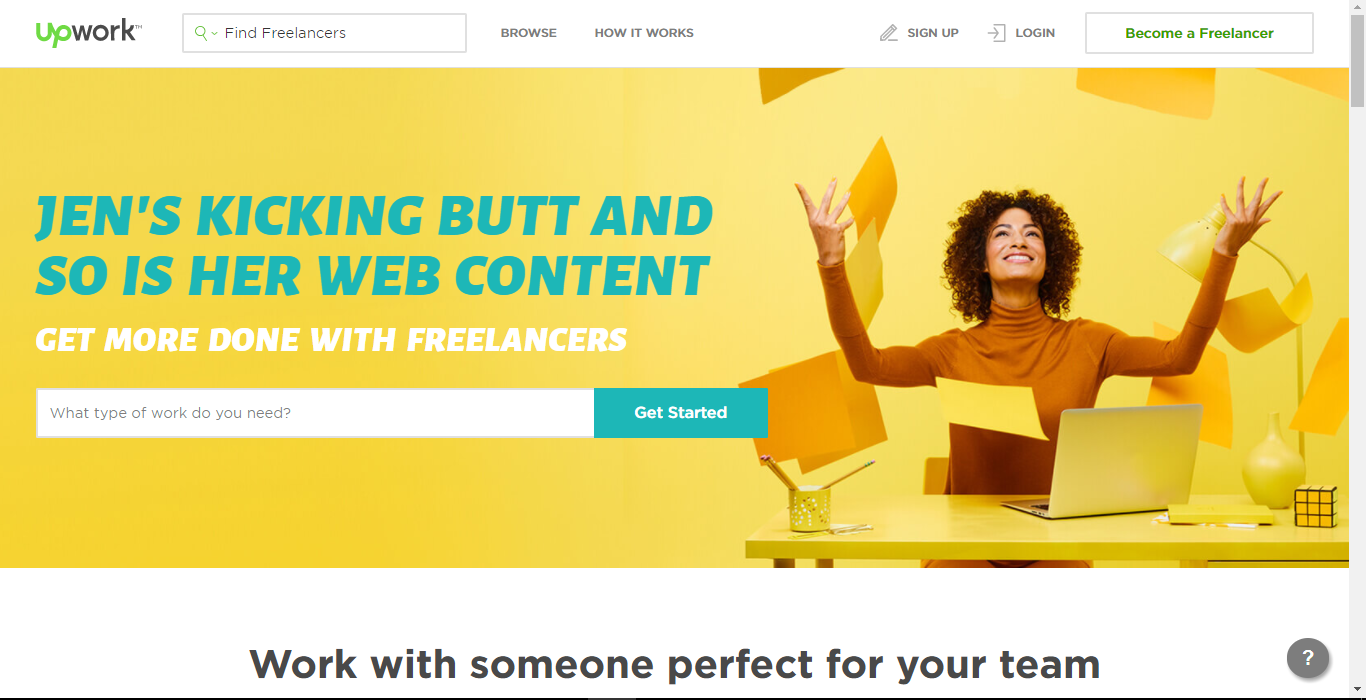 What makes it different from other platforms is the trustworthiness.
If you have any skills at all, it's just a matter of time to start getting some jobs. Job search on Upwork doesn't include long screening process or on-spot job interviews. It's all-online place for freelancers to connect with jobs relevant to their skills.
Here's how it works:
if you're a freelancer, you create your profile, provide your experience and surf through offered jobs
once you've found something you like, you send a proposal and wait for the response
the next step is the interview and after that, quite possibly, hire!
You get 60 connections each month and signing up for one job costs you 2 of those. The good news are: there are new jobs offered each minute. In the most popular fields, there literally are hundreds of job offers posted. That's exactly why I'm sure - you CAN find your perfect project there as well. And not only one!
On the other side there are all kinds of businesses, business owners, managers, individuals working in literally any field in the world - offering the job for you.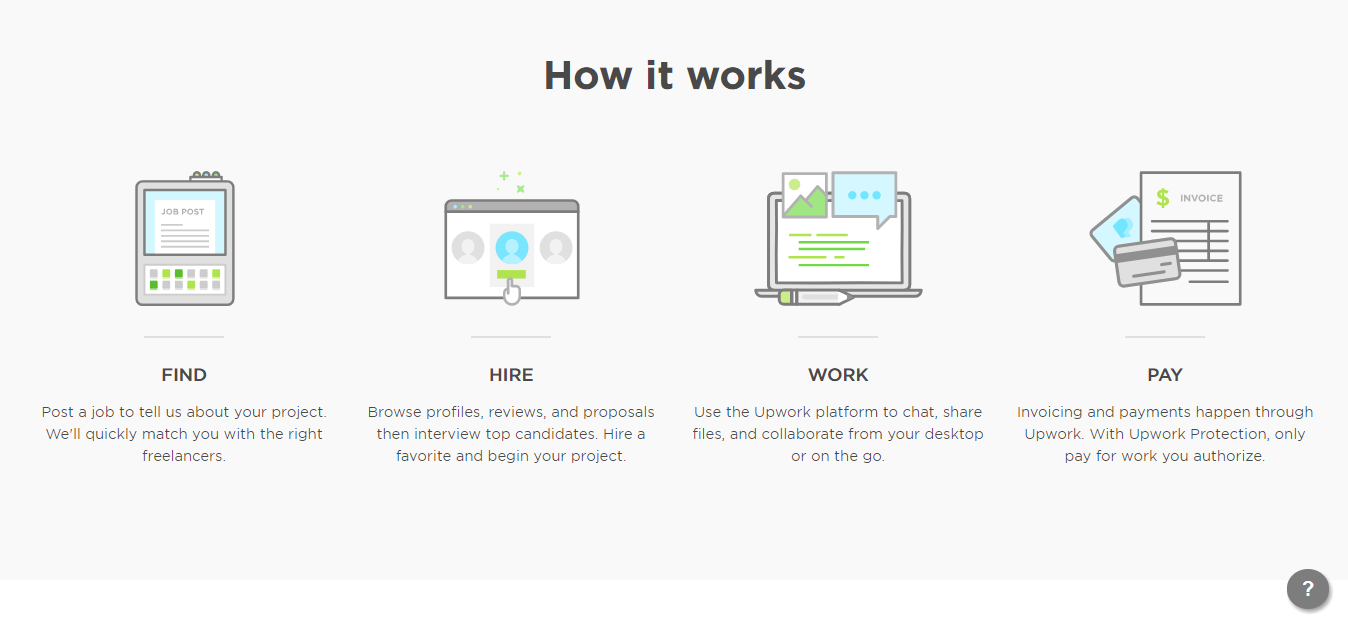 Upwork has a payment system which guarantees you the payment from your client.
This definitely is one of the best reasons to work on Upwork. Your payments are guaranteed!
You can work either on an hourly rate or fixed price. Besides that, Upwork also has a time tracker that'll let your client know how many hours you've worked by making screenshots of your working process.
Each dollar you get is withheld for 2 weeks until you can get it into your account, either it's your card, bank or PayPal.
This platform is an amazing fit for everyone: starters looking for the option to grow their experience, professionals looking for a full-time positions, remote jobs or part time projects, side-hustlers who're working their daily jobs and do freelancing from time to time. Upwork gathers writers, developers, designers, social media managers, digital marketers, lawyers and many other professionals.
Businesses like Dropbox, Airbnb, Instapage and Zendesk are hiring on Upwork. You can work with startups, well-established companies, starters, individual coaches and freelancers. Here are just some of the clients I've worked with on Upwork:
Outdoor Lifestyle retailer from Australia
Holistic Health coach from USA
Pet memorial service from USA
Job Hunting Expert from USA
Travel startup from Spain
Business coach from Jamaica
Fast-food restaurant from Israel
If you're working in any kind of specific niche, most likely, on Upwork you'll find your best-fit clients.
Reasons why some people dislike Upwork
Although I still believe that Upwork is one of the best and easiest ways to get started as a freelancer, there are several reasons why many people actually dislike the platform.
It takes 20% of your income up to $500 income per project, followed by 10% up to $1000. Although the stakes are high this platform really does its job well so very often it's worth the money. Besides that, their $500-policy gives you the motivation to get more long-term projects!
There can be scam jobs: asking for $5 for a whole website development, offering projects that aren't real, etc. I have to be honest - I haven't seen such projects myself and haven't worked with any clients like that! That's why you should use the screening process I've offered in this course.
People don't like to sell themselves short and work cheap for big projects (dooh!). And somehow there still exists this idea that Upwork has cheap-projects-only which is NOT true!
In this course, I'll show you how to get the best from this platform and kickstart your freelance career right there without a worry!